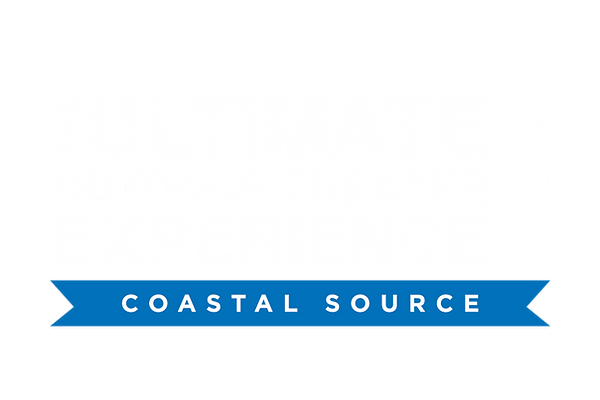 Get ready for the Ultimate Outdoor Theater Experience.
Attention Reps! A Coastal Source Outdoor Surround Sound demo system is making its way to your market. We want your dealers to be able to provide incredible outdoor theater experiences for clients in their own backyards. While the middle package below is what we are shipping around the country, we have created three packages below for your dealers to present clients to purchase their own outdoor theater audio system. Dealers should pair these systems with their favorite outdoor televisions and projection systems, and their clients will relish the time they get to spend in their own great outdoors. 
(1) 4U Hardshell ATA Rack Case
(1) Denon Pro 1U Blu-Ray & Media Player
(1) Guardians of the Galaxy Vol. 2 – 4K Blu-Ray
(1) Ready Player One – 4K Blu-Ray
(1) Sting Live At The Olympia – Blu-Ray
(1) USB Drive loaded w/ movie clips & top 10 demo songs
(1) 1U I/O Panel with 8x CC Outputs + 1x HDMI Output
(2) CRS700/4 Amplifiers
(5) 10.0 2-Way Ellipse Bollards
(1) 14.0 Bollard Subwoofer
(10) 25′ CC 12/2 Extension Cables
Share the Coastal Source Outdoor Theater Experience with clients, friends and associates with our travelling demo system! Reservations will be taken on a first come, first served basis.
"*" indicates required fields
OUTDOOR THEATER DEMO TIPS
SET-UP & TESTING
Set up and test the complete demo system to ensure performance and normal operation before your clients arrive to check it out.
Test the system with your intended video display. Be sure to check lip-sync settings on the display as this may need some adjustments.
We recommend spacing the Left & Right speakers approximately 25' apart, and spacing the Rear speakers 25-30' away from the Front speakers.
We recommend the subwoofer be placed around the lower corner of the TV/projection screen.
These are general spacing guidelines and could vary depending on your listening/viewing environment.
Power the system to a dedicated 20A 120VAC electrical circuit if possible. Outdoor theater setups can demand a lot of power when played at high volumes. Gas generators may not be enough for max volumes.
PLAYER OPERATION 
When turning on the Blu-Ray player you will see the on-screen display with 3 logos; Blu-Ray Disc, Media Center, and Settings. Using the arrow buttons on the remote you can navigate to play a disc or access the Media Center. To play our stored media files:
    1. Select Media Center
    2. Click on USB1
    3. Select All
    4. Choose between "Movie Trailers" or "Franco's Top Ten Songs"
    5. Use the arrow keys to navigate through the interface.
THE DEMO 
Match your movie and music selections to your audience, playing something that will resonate with them. 
Describe the system your client will see and hear, pointing out anything to pay special attention to during the viewing.
Pay close attention to volume levels and know the limits of the system in the demo environment. 
Let the client know that smaller (less expensive) and larger (more expensive) systems are available if desired. 
Make it fun! Bring the popcorn, roll out the red carpet, and make it a night to remember so that they'll want to repeat it again and again!
ENROLL YOUR DEMO

Once you have used our surround sound demo system with your clients, be sure to enroll it using the form in the link below in order to be eligible to receive an incentive in the form of a Visa gift card or double-value CS coupon for personal use!
OUTDOOR THEATER AUDIO PACKAGES
THEATER STEREO AUDIO PACKAGE
A great, low-cost option for all-encompassing stereo sound to complement an outdoor television or projection system. 
*Extension cables required

(1) SAS250
(1

) SONOS AMP
(4) 10.0 2-WAY ELLIPSE BOLLARDS
(2) AUDIO Y-DIVIDER CABLES


RETAIL: $6,404     DEALER: $3,624
5.1 SURROUND AUDIO PACKAGE
An incredible option for true outdoor surround sound when paired with surround sound processor.
*Extension cables, external audio/video source and surround sound processor required

(2) CRS700/4




(2) JBX CONVERTER BOXES




(5) 10.0 2-WAY ELLIPSE BOLLARDS


(1) 14.0 BOLLARD SUB


RETAIL: $17,050     DEALER: $9,183
5.1 SURROUND AUDIO PACKAGE 2
The best option for unparalleled outdoor surround sound when paired with a surround sound processor.
*Extension cables, external audio/video source and surround sound processor required

(2) CRS2800/4




(2) JBX CONVERTER BOXES




(5) 10.0 3-WAY ELLIPSE BOLLARDS




(2) 14.0 BOLLARD SUBS




(4) AUDIO Y-DIVIDER CABLES
RETAIL: $36,205   DEALER: $19,176.50